quinta-feira, Novembro 14, 2019 blog Share
---
Euki is the new reproductive health app that doesn't store or share your data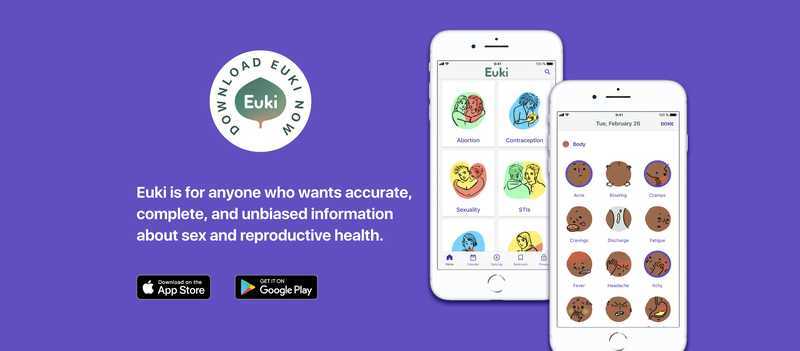 With news of state legislators monitoring the menstrual health of constituents using spreadsheets and period tracking apps sharing and monetizing user data, it's more important than ever to make conscious decisions about how and where you might store your health information, especially related to your sexual and reproductive health (SRH).
It's concerns like these that led to the creation of Euki, a free app (available on the Apple App Store or Google Play) from Women Help Women, a leading organization in providing accurate information about reproductive health. Their SASS program has skilled counselors who are experts in connecting people with health resources, whether it's information about abortion or finding their local clinic, and Euki is an extension of that. 
Unlike almost every other period tracking app, Euki does not store any user data in the cloud; data that a user enters is only stored on the user's phone, and no one else has access to it. Users can choose to protect the app with a password, and can even engage a feature to display a fake screen if someone were to force them to open the app.
Based on two years of formative research scanning the existing SRH app market, including period tracking apps, and conducting focus groups and interviews with people who can get pregnant, Euki fills a gap in available SRH apps by addressing the needs we heard loud and clear from potential users. In addition to putting users' privacy and security first, Euki offers comprehensive sexual and reproductive health information from sources you trust, like the Guttmacher Institute and the World Health Organization, and provides answers to questions you might have about sexuality, abortion, miscarriage, contraception, STIs, and more. 
We designed Euki to be supportive and inclusive, making no assumptions about who the user is, or why they're using the app. We know that someone might be tracking their period to get pregnant or not to get pregnant, or that tracking bleeding may instead be about making sure your period returns after a miscarriage or documenting bleeding during a medication abortion.  Euki doesn't have predictive logic programmed in, so users with irregular periods, for example, won't get any annoying pop ups asking if they're pregnant. 
Euki also puts abortion back where it belongs – alongside comprehensive information about sexual health. People should have a range of safe, affordable methods of abortion care available to them. Euki has information about both medication abortion and surgical abortion, and information about how to find a health care provider who offers abortion services, so that users can be informed about all their options, and decide what is best for them.
Euki can answer questions like:
How do I self-manage an abortion? How do I support a friend through an abortion? What should I ask a clinic before my abortion?

What are the different types of birth control? How do I start and stop one particular method? What do I do if I had unprotected sex?

How do I talk to partners about STIs? Where can I get tested?

What is a miscarriage? How do I know if I had one? Where can I go for support?
Euki also links to direct service and advocacy organizations, all within the app. 
In the next few months, Euki will be available in Spanish. In the meantime, download the app, leave us a review, and share Euki with everyone you know!