One year on, Abortion Without Borders helps five times as many clients, and we mourn the third woman killed by Poland's abortion laws
hari Jumat, Januari 28, 2022 blog Share
---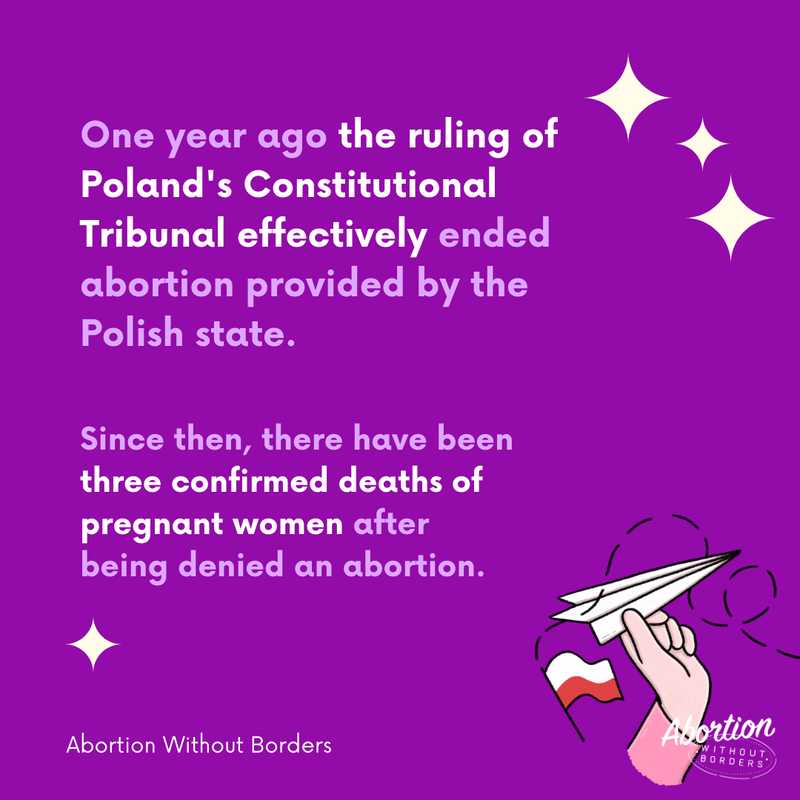 One year ago, a Polish Constitutional Tribunal's ruling declared the provision of abortion in case of foetal malformation to be 'unconstitutional'
In this time, Abortion Without Borders saw a five-fold increase in requests for help, contacted by 32,888 people
In a single year, there have been three confirmed deaths of pregnant women who were denied an abortion which would have saved their lives
In the year since the tribunal ruling, Abortion Without Borders has continued to help Polish residents who need support accessing an abortion, receiving calls from 32,888 people (a five-fold increase on the previous year). The partnership supported 1,544 to travel for an abortion in another country, and spent €328,131 supporting clients (covering safe abortion pills, procedures in clinics, travel, accommodation, Covid tests and more).  
Two days before the anniversary of Poland's tribunal ruling, it was confirmed on social media that another woman has died after being denied an abortion that would have saved her life. Agnieszka was a 37-year-old mother of three, denied an abortion in hospital even after the foetuses were confirmed to have died in utero.  
As news emerges of yet another tragic and preventable death, Abortion Without Borders mourns for Agnieszka and reaffirms its commitment to help anyone who needs support to access an abortion. We will continue to provide organised solidarity and radical compassion. Regardless of the steps the Polish government takes to obstruct people from having abortions, Abortion Without Borders will be here to help.

Mara Clarke, Director of Abortion Support Network
Abortion Without Borders is a partnership of six organisations*, providing information, support and financial assistance to Polish residents seeking abortions. The organisations work together to make sure each person who contacts us gets the right care pathway and funding for their individual situation. 
The women and pregnant people who contact us have ranged in age from a child of 13 to a woman of 48. Some are scared because they believe, incorrectly, that it is not legal to travel abroad for an abortion or to take abortion pills at home (both are legal). Before the tribunal ruling, 98% of the 1000-2000 abortions carried out each year were for foetal indication, which is what is no longer accessible. The situation has not gone from good to bad, but from extremely limited to almost impossible.  
Abortion in cases where there is a risk to life or health is still technically legal in Poland, but it is extremely difficult to get – and this is underscored by the three tragic deaths of pregnant women in the last year alone.  
Some people who contact us tell us they are ashamed to have to ask strangers for money. We tell them it's not your shame, it's Poland's shame. Many are angry at what the Polish government is putting them through. So are we. Having to travel for an abortion can be very stressful, but Abortion Without Borders is here to help people without judgement.

Natalia Broniarczyk, Abortion Dream Team
Notes
*Abortion Without Borders (abortion.eu) is a grassroots feminist network made up of Abortion Dream Team (Poland), Abortion Network Amsterdam (Netherlands), Abortion Support Network (Britain), Ciocia Basia (Germany), Kobiety w Sieci (Poland), and Women Help Women (global).  
In the one year since the tribunal ruling came into effect, Abortion Without Borders: 
Was contacted by 32,888 people from Poland (in the previous year it was less than 6,000) 
Spent €328,131 on safe abortion pills, procedures in clinics, travel, accommodation, Covid tests and more 
Supported 1,544 people seeking to travel abroad for an abortion 
Answered 986 queries about the morning after pill, which is hard to get in Poland 
Helped 111 people with self-managed second trimester abortions 
Provided legal advice to 363 people. 
Abortion Without Borders launched on 11 December 2019 to support access to safe abortion for anyone in Poland. We provide:
Information on pregnancy options 
Signposting to reputable providers of safe medical abortion pills 
Support with arranging appointments at hospitals and clinics 
Support while people self-manage their abortions with medical abortion pills 
Financial support for the cost of abortions and related travel costs 
Logistical support with arranging travel, appointments, Covid tests, translation of medical records, and much, much more.